Heritage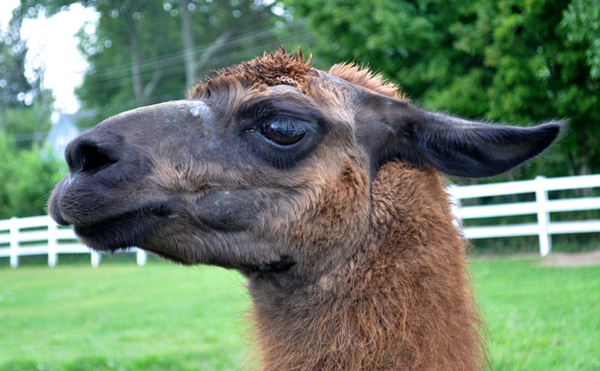 Unlike baby goats and sheep, llamas should never be bottle fed by people, as they can develop "Berserk llama syndrome," a psychological condition in which they imprint on people to the extent that they view people as fellow llamas and become aggressive and territorial around them. Many llamas who develop this condition are unfortunately euthanized.
Heritage developed Berserk llama syndrome after he was bottle fed as part of a 4H project. The people who raised him quickly realized how dangerous he could be and called MFS. Since Cheri and Jim had a lot of experience caring for llamas, they agreed to take him in and they were gradually able to gain his trust.
Today, Heritage can still be temperamental and takes some time to warm up to people, but he has calmed down significantly from his earlier days. He is very attached to Cheri and Jim and is friendly with people who he knows well, including many long-term MFS volunteers. Heritage spends his days in the front pasture with fellow llamas Milkweed and Pedro and will come over to the fence to check out sanctuary visitors depending on his mood!