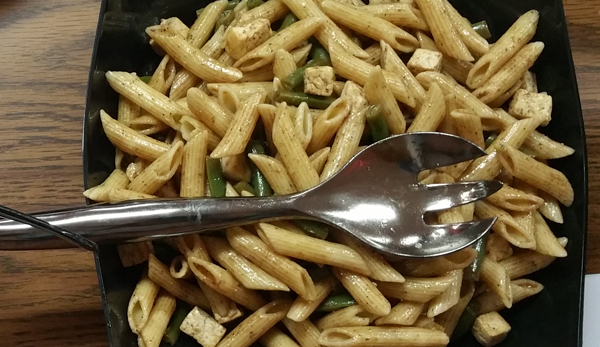 Are you taking an MFS tour and looking for a place to eat along the way? Check out these restaurants and other options, all of which are located within 30 minutes of the sanctuary in Mendon, Massachusetts (southern Worcester County).
Vegan/Vegetarian Restaurants
Dosa Temple (Ashland | 30 mins away) — An Indian vegetarian restaurant with an extensive menu including vegan Indian and Indo-Chinese food, as well as kid's menu.
Green Leaf (Framingham | 30 mins away) — A vegetarian and vegan restaurant offering lots of vegan soups, salads, sandwiches, and entrees, from double decker nachos to seitan picatta.
Udupi Bhavan (Shrewsbury | 30 mins away) – A southern Indian vegetarian restaurant offering many traditional vegan dishes.
Restaurants with Vegan Options
Mandarin (Milford | 15 mins away) — A Chinese and Japanese restaurant with a nice big vegan-friendly menu.
Mango Tree (Milford | 15 mins away) — A Thai restaurant with large menu including many vegan options as well as a "create-your-own" dish option.
Muffin House Café (Mendon | 3 mins away) — A great little place for a cup of coffee. Hungry too? They also have a veggie wrap that can be made vegan.
Nzuko (Framingham | 30 mins away) — A restaurant centered on healthful foods that are also delicious. Vegan options include a black bean burger, hummus wrap, and falafel pocket.
Organic Buzz Cafe & Juice Bar (Norfolk | 30 mins away) — An organic cafe and juice bar with vegan options including a chocolate + banana bagel and pesto zucchini noodles.
Pizza Palace (Milford | 15 mins away) — A pizza joint that offers vegan pizza with Daiya cheese and chick'n.
The Purple Rooster Cafe (Plainville | 25 mins away) — A small cafe offering breakfast and lunch with vegan options like tofu scramble, toast with vegan butter, and a BLT.
T.C. Scoops (Medway | 20 mins away) Ice cream shop that carries vegan ice cream from FoMu, topped with non-dairy hot fudge and served in vegan cones.
Thai Pepper (Milford | 15 mins away) — A Thai restaurant that uses no MSG and offers several dishes that are vegan or can easily be made vegan.
Stores
Simple Enough Natural Foods (Westborough | 25 mins away) — A grocery store that stocks vegan products—including vegan cookies to satisfy your sweet tooth!
Whole Foods Market (Bellingham | 15 mins away) — This location has a hot bar, salad bar, and other prepared foods that are vegan-friendly.
Additional Restaurant Resources
For information on vegan restaurants farther away, we recommend the following resources: