Ever since MFS was founded, volunteers have been an indispensable part of our organization. Our dedicated volunteers make an impact on a daily basis, from cleaning barns and cutting up fruits and veggies for the animals to helping organize events and raise money behind the scenes. Read more about our volunteer opportunities below.
Become an MFS Tour Guide or Assistant
Do you enjoy educating others about farm animal protection issues? If so, MFS would love to have you on board as a tour guide!
These dedicated volunteers lead visitors on tours of the sanctuary and share our animal stories on weekend afternoons during tour season, which runs approximately April-October. Being a tour guide is also a great way to get to know and interact with our many rescued animals.
We ask that tour guides commit to running at least two tours a month from 1:00-3:30pm. No prior experience is necessary and all guides will receive training.
We are also looking for tour assistants to help out with tours and check in tour visitors.
All tour guides and assistants must be 18 or older. Please note that for safety and liability issues, volunteers are not permitted to bring young children with them while they are volunteering.
Please contact tours@maplefarmsanctuary.org if you are interested in becoming a tour guide or assistant.
---
Become a Barn Volunteer
MFS needs volunteers seven days a week for barn cleaning duties. We are currently seeking volunteers who can make a commitment to be at the sanctuary on the same day every week from 12-3pm. We have volunteer shifts open all days, including Saturday and Sunday.
All barn volunteers must be 18 or older. Please note that for safety and liability issues, volunteers are not permitted to bring young children with them while they are volunteering.
If you are interested in becoming a barn volunteer, please fill out and return our volunteer application to volunteer@maplefarmsanctuary.org or the address listed on the application. We hope to see you soon!
---
Remote & Project-Based Volunteering
If you cannot travel to the sanctuary on a regular basis, you can still be part of our efforts by volunteering remotely. We need volunteers for projects that are completely remote and others that involve only occasional sanctuary visits, including the following:
Assisting with our animal sponsorship program by helping produce twice-yearly updates of sponsored animals
Managing and growing the MFS YouTube and Pinterest channels
Helping out with occasional mailings and data entry
Reaching out to vegan companies to donate raffle donations for MFS events
Helping with other fundraising & communications projects
If you are interested in volunteering remotely for the sanctuary, please contact volunteer@maplefarmsanctuary.org.
---
Volunteer Your Professional Skills
Put your professional skills to use to help animals! Specifically, we are seeking the following:
Videographers to help us create videos of MFS animals and sanctuary life
Photographers to take photos of our animals and events
Graphic designers to create graphics for our website and social media as well as infographics
Writers and bloggers to produce content and contribute guest posts on farm animal protection issues and plant-based living for our website and newsletter
Fundraisers and grant writers to help out with our many fundraising projects
Google AdWords and Analytics experts to help us optimize our ads and website
Marketers to help us identify and reach out to potential corporate sponsors
Please contact volunteer@maplefarmsanctuary.org for more information about these projects!
---
Volunteer Spotlight: Liz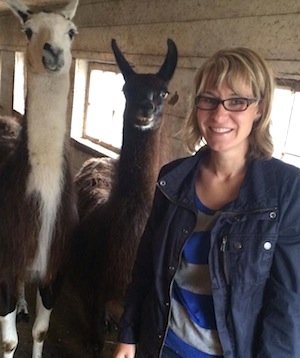 Liz is a do-it-all, never-say-no kind of volunteer. She has conducted tours, cleaned the barn, answered emails, tabled at events and much more. Liz is an all around amazing person and we are lucky to have her as part of the MFS family!
Here are some fun facts about Liz!
Current Vegan Addictions: "The vegan tuna sandwiches from O2 Yoga Café, Veganaise--which I like to put on everything, teriyaki tofu, and vegan German chocolate cake."
Special Animal Moments: "There are so many, but most recently...Chance rolling over so I could give him a stomach rub then making snorting noises because he liked it. The hens waiting patiently by the door so I could give them a bunch of red grapes. Two of the biggest I'd have to say is Heritage finally trusting me enough to let me pet him and actually look him in the eyes. He has stopped making the spitting noises at me. Also, helping to get Boo Boo to MFS. Another very special thing has been to help people find placements for animals which has taught me about resources in the community. Like I said, I could go on for days, but these are some of the best moments."
---