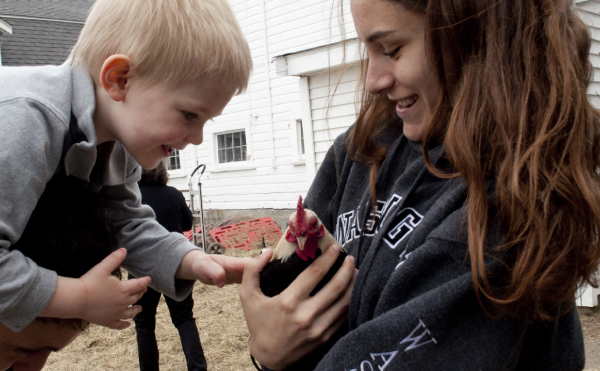 The MFS 2018 Tour Season is Here!
MFS welcomes visitors for public, private, and group tours. Visitors interact with animal residents while learning about their stories and the history and mission of the sanctuary.
Important Note: For the safety of the public and our animals, MFS does not allow walk-in visitors. All visitors must register for a tour in advance. Thank you for your understanding.
Public Tours
The MFS 2018 tour season runs April 14 - late November. All tours run from 2:00pm-3:30pm. We are currently booking tours for the following days and ask that you reserve your spot in advance by emailing tours@maplefarmsanctuary.org.
Saturday, August 25
Sunday, August 26
Saturday, September 1
Sunday, September 2
Tickets cost $12 for adults and $8 for children (please note that ticket purchases are not tax-deductible). Please pay for your ticket with cash when you check in for your tour.
Email tours@maplefarmsanctuary.org if you have any questions about MFS tours.
Group & Private Tours

MFS offers private and group tours by arrangement from April 14 - late November. Please contact tours@maplefarmsanctuary.org for information about planning a group or private tour.
What to expect when visiting Maple Farm Sanctuary
Other than amazing animal interactions like those shown in the video above, what can you expect on an MFS tour? Read about one supporter's experiences on an MFS tour!
An animal sanctuary can be a profound experience for many people. Interacting with animals typically seen as food can be life changing. Often visitors leave with a new perspective and respect for our animal friends. The sanctuary is quite different from a zoo. It is home for the animals, a place for them to feel safe and be cared for. We ask that all visitors treat the animals with respect and courtesy.
Please wear appropriate clothing for being outdoors and proper footwear for being among farm animals. The barn floors are cleaned daily, but the animals leave "presents" whenever they need to!
For the safety of our animals and yours, companion animals are not allowed at Maple Farm Sanctuary. Please do not leave companion animals inside your vehicle as temperatures can reach dangerous levels quickly, even with windows open.
Cancellation Policy
Public tours are held rain or shine! We rarely cancel a tour - only in the case of an extreme weather event. You will be notified by email if this occurs and can receive a refund or choose another tour date.
Vegan Food Options in the Area
Looking to enjoy some delicious vegan food on the way to or from your tour? Check out our guide to vegan food options within 30 minutes of the sanctuary.