Jonathan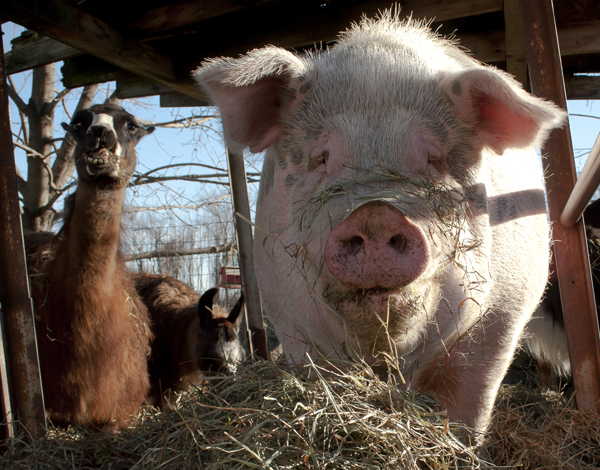 A pig with a personality as giant as he is! Jonathan was brought to us when he was only 4 months old in 2007. He was born out of boredom. A local family thought it would be fun to mate pigs and have their children see the piglets being born to be "entertained." Apparently no thought was made to what would happen after that event.
When the family called and asked for our help we immediately stepped in. We then noticed that Jonathan had a large hernia the size of a softball on his pelvis. A hernia occurs when the contents of a body cavity bulge out of the area in which they are normally contained. Jonathan had stopped eating, if you can imagine a pig not eating, drinking and urinating; he was in so much pain. Jonathan was rushed to a veterinary hospital and underwent hernia surgery. He now lives at the farm happy as a pig should be and weights close to 800 pounds. There are no words large enough to describe the personality of this lovable, jovial, spark of life Pig!
Below: Jonathan digs himself a mud bath and settles in.